Then Jesus said to his disciples: "Therefore I tell you, do not worry about your life, what you will eat; or about your body, what you will wear. For life is more than food, and the body more than clothes. Consider the ravens: They do not sow or reap, they have no storeroom or barn; yet God feeds them. And how much more valuable you are than birds! Who of you by worrying can add a single hour to your life? Since you cannot do this very little thing, why do you worry about the rest? -Luke 12:22-26 (NIV)
Due to the COVID-19 situation, and our commitment to love our neighbour by being socially responsible, Sheridan Park Family Church has been suspending in-person, onsite services and ministries since March 16th. Church leadership is continuing to monitor the situation very closely and will continue to communicate any changes to our current plan.
Below is an update as of May 15, 2020.
Services & Ministries
Our church has made several strides to provide better spiritual care to our people and community during this time. Our efforts include things like, modifying our foodbank ministry, greatly improving our online services, creating a system of individual and group online connections, and many more.
We recognize that giving offerings is a part of how we grow and exercise our faith. We also recognize that financial strain is heighted during this time for both organizations and families. Our church is not immune to these strains so we ask that you continue to utilize our online giving option through our website HERE. And we sincerely thank all our regular supporters who continue to sacrifice for our church and have made the financial impact bearable for us.
The church office and staff are still reachable by email and phone during this time, but the physical office remains closed.
We encourage all our people to continue to minister to each other and those in our communities while being cautious to avoid the spread of the disease. We also ask everyone to be praying for this crisis, those affected, and the governing authorities. And lastly, we encourage everyone to consider how they can care for and serve others with love during this time.
Reopening
The question on many people's hearts is "when will we reopen, and what will change?"
It is our intention to proceed in a way that will bring the most glory to God, be the most loving towards others, and that will best submit to the governing authorities (Rom 11:36, Matt 22:34-40, Rom 13:1-7).
Specific dates and measures are currently out of reach, but our province is moving towards this and we will be following the developments closely. What we do have now is the general framework below: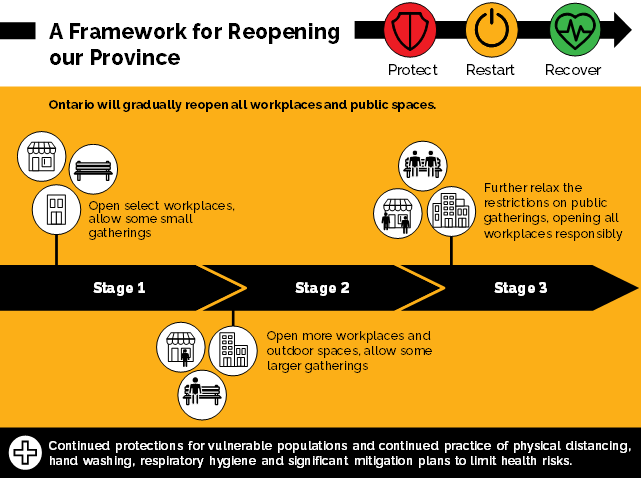 Given this framework, is possible we may reopen with high restrictions in stage two, but it is still to early to tell. When we do physically reopen, precautions will have to be put in place.
Although many specific guidelines about reopening precautions & procedures have been released for various sectors, nothing has yet to be release concerning religious organizations. The follow is what has been communicated thus far:
"The government will also work collaboratively with faith communities and the wedding industry to develop guidance that may enable safe gatherings for these events, including wedding ceremonies and religious occasions." https://files.ontario.ca/mof-framework-reopening-province-stage-1-en-2020-05-14.pdf
Be assured that the church leadership is continuing to monitor the situation, develop a plan, and will communicate clearly to our congregation about any relevant developments. We long to gather together again and look forward to the day that will be.
Although it pains us to have so little clarity about the future of physically reopening our church, we have encouragement because the church is NOT a building, but a body of believers. We have witnessed this truth become a reality during this pandemic, and because of that the church is becoming stronger than ever. Let us continue to be BE the church wherever we find ourselves.
As the above scripture reminds us, God provides for all our needs so we need not worry about anything. May we put our trust and hope in God during this season.
More Information
Additional information about how to manage the risk and updates on the situation can be found here.
https://www.peelregion.ca/coronavirus/
https://www.who.int/emergencies/diseases/novel-coronavirus-2019/advice-for-public
https://files.ontario.ca/mof-framework-for-reopening-our-province-en-2020-04-27.pdf